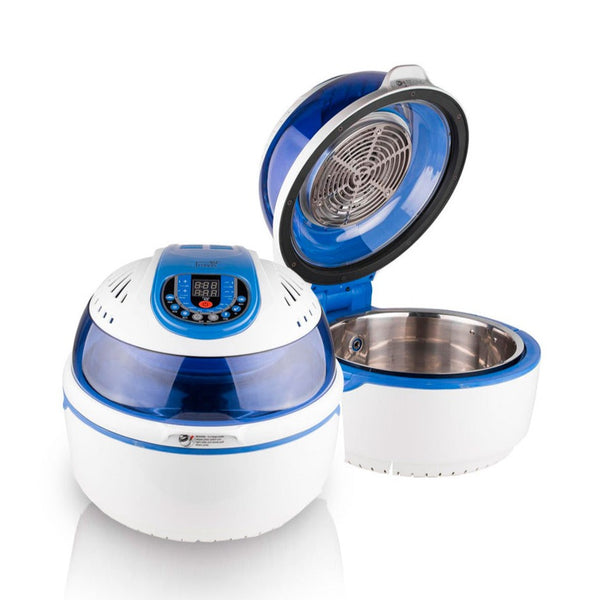 Buffalo Stainless Steel Smart Air Fryer
*This model is discontinued. Buffalo released the updated model in 2021. Please click here for more information. 

Deep fry foods without oil or less oil, and bake in a shorter time. It is an air fryer that uses a stainless steel inner container.
More updated recipes please visit our Recipe Blog.
Recipe book pdf Download 
More video demonstration please refer to our Official YouTube Channel.

By using infrared from 180c up to 230c around foods like chips, chicken, fish or pastries, Smart Fryer able to brown them off nicely with up to 95 per cent less fat!
Infrared quick cook technology 

360 degree heating sphere

360 degree rolling function

Large capacity - Up to 1.8 kg chicken

Advanced heat penetration - ideal for thick meat such as roasted pork

Stainless steel insert and spare parts - avoid unhealthy material in high heat

All cooking tools are dishwasher safe 
Other features
LED Control Panel

Heat Emission Hole

Lid Handle

Lid Release

Housing

Transparent Cover
Comes with 8 cooking tools, including tongs, baking cage, chicken fork, low/high rack, holder, steak cage and skewer rack (refer to image above)
Function modes include speed cook, roast, fry, bake, pizza, steak and skewer.
Functions of Smart Air Fryer
Roast

Speed Cook

Fries

Bake

Pizza

Steak

Skewer
| | |
| --- | --- |
| Stainless steel | SUS 304 |
| Voltage | 220-240v |
| Power | 1200-1400W |
| Frequency | 50Hzz |
| Dimensions | D W H: 40 x 35 x 31cm |
| Stainless steel insert dimensions | Diameter outer / inner: 30 / 27cm, height 12cm   |
| Stainless steel insert capacity | 10L |