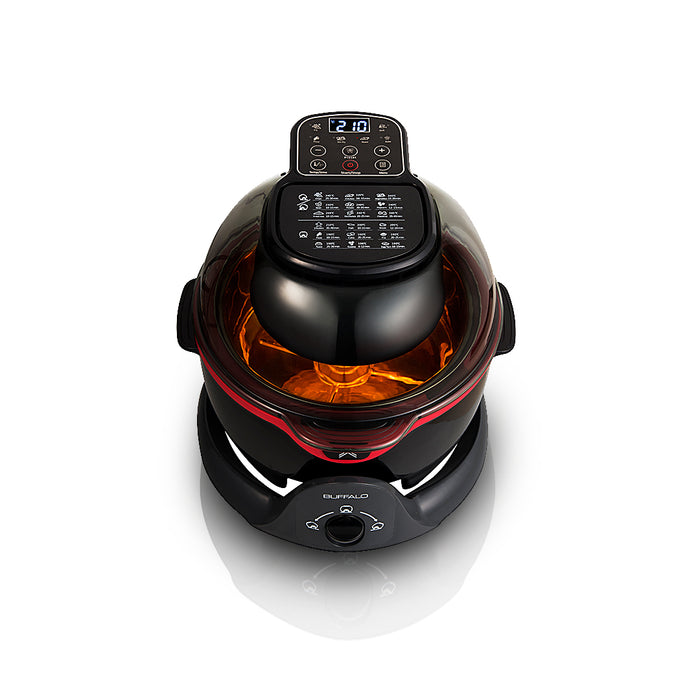 Buffalo Stainless Steel Smart Air Fryer 2.0 - Pro Chef Plus
It is the new Buffalo Stainless Steel Smart Air Fryer with stir-fry function.
SUS 304 Stainless Steel Inner Pot
Tilting Features for Perfect Stir-Fry Effect
6 Cooking Multifunctions
360° Turbo Heating Technology
Product Description:
Enjoy guilt-free cooking that offers simplicity and convenience. Almost no effort needed with the Buffalo Pro Chef Plus.
The 360° Turbo Heating Technology rapidly circulates hot air to crisp your favourite fried chicken evenly, while keeping the centre succulent and juicy. This can all be done with little or no oil needed.

This is also the first air fryer that comes with "TILT" features for a perfect stir-fry effect.

An added convenience and time-saver are found in the 6 cooking multifunctions that can be preset to suit your needs.

The 304 Stainless Steel Inner Pot also means it's durable, safe, healthy, and free of chemical coating!

This air fryer is also known as Uncle Buffalo air fryer.
Main Features:

Auto rotating function
The stainless steel inner pot automatically rotates to maintain even heat distribution throughout the cooking process.

360° turbo rolling heating technology
This latest turbo heating technology uses infrared light to generate and swirl rapidly heated air that can fry your food with little or no oil. By using infrared heating technology, it quickly crisps and browns the surface of the food while maintaining its juiciness. It also offers fat-free cooking to help you lead a healthier lifestyle.

Tilting pot function 
The Buffalo Pro Chef Plus can be tilted for a stir-fry effect. 

Multi-functional
6 preset cooking functions (All cooking functions can be preset within a 24-hour timeframe.)

Fry: 240˚C, 30 minutes
Grill: 200˚C, 15 minutes
Bake: 160˚C, 20 minutes
Roast: 210˚C, 40 minutes
Stir-fry: 240˚C, 15 minutes
Pizza: 190˚C, 12 minutes
*The preset functions can be adjusted to suit your needs.
SUS 304 stainless steel inner pot
The food grade 304 stainless steel is known for its durable, non-oxidization, and non-corrosive properties. The strong stainless-steel construction also means the coating does not come off.
Other Features:
The transparent tempered glass cover allows you to monitor the cooking process.
The non-slip design ensures that the pot will securely stay in place on your kitchen countertop.
The stainless steel filter reduces grease buildup for easy cleaning.
Temperature & timing guidelines are easy-to-follow. Quickly understand the temperature and timing for each food category.
Simple push buttons let you open the lid and enable the tilting & rotating pot function.
LED control panel.
Lid handle.
Specifications

| | |
| --- | --- |
| Product Dimensions | D W H: 41 x 38 x 37 cm |
| Gross Weight | 6.6 kg |
| Capacity | 7L |
| Voltage / Power / Frequency | 220 – 240 V / 1200 - 1400W / 50/60Hz |
| Stainless steel insert dimensions | Diameter: 27 cm, height 11.5 cm |
| Temperature range | 50˚C - 240˚C |
| Time setting range |  1 – 60 minutes |