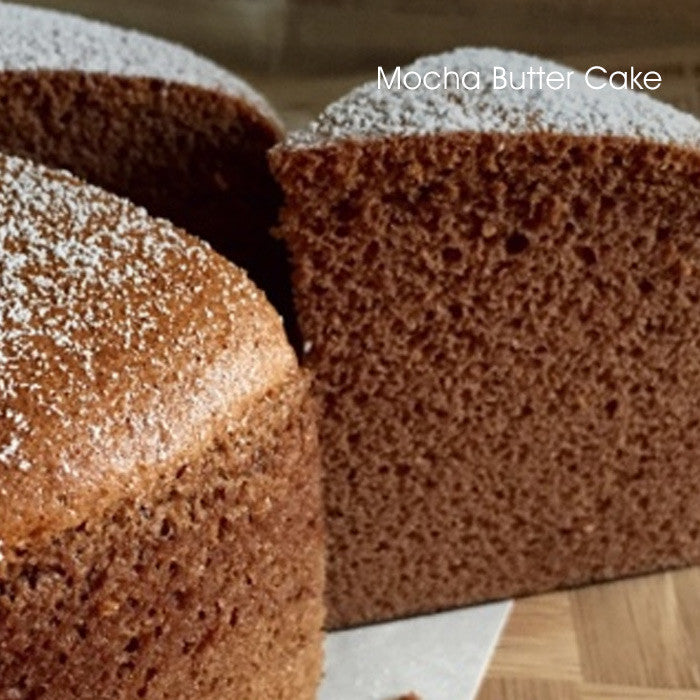 Mocha Butter Cake
Ingredients :
| | |
| --- | --- |
| A | |
| Butter (sliced) | 200g |
| Castor Sugar | 150g |
| Eggs | 4 |
| Instant Coffee Powder | 1 tbsp |
| Cocoa powder | 1 tbsp |
| Hot Water |  3 tbsp  |
| Coffee paste | 1 tsp |
| Chopped Walnut | 100g |
| Self-raising flour | 220g |

Method:
1. Beat butter and sugar until light and fluffy.

2. Add in eggs, one at a time, beat thoroughly after each addition.

3. Mix coffee powder and cocoa powder with hot water, stir until dissolved. Stir until cool. Slowly pour into butter mixture together with coffee paste and walnut.

4. Fold in sifted flour and mix until well blended.

5. Pour the batter into the greased inner pot.

6. Select "Cake" function and press "Start" (45 minutes).

*Baking time for butter cake will be slightly longer, which could be 50min to 1 hour. One can test the cake with

a skewer when the 45 min default baking time elapsed. If it's not done, just restart the "Cake" function and reduce the baking time to 10-15 min and check afterward.