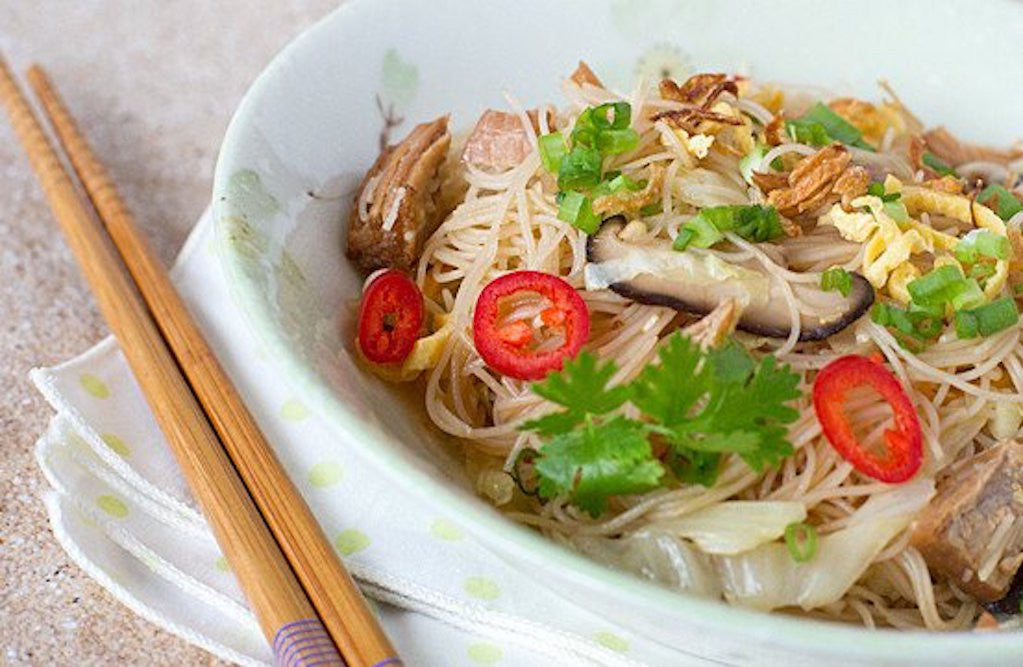 Taiwan-style Fried Meehoon
Ingredients :
| | |
| --- | --- |
| Meehoon | 300gm |
| Mushroom | 6-8 pcs |
| Cabbage | 1/4 grain |
| Carrots | 1/2 pcs |
| Chinese Celery | 2 stalks |
| Lean meat | 700gm |
| Broth |  2 cups |
| Dried shrimp | 15gm |
| Fried shallots | 1 ½ tbsp |
| Fried garlic | 1 ½ tbsp |
| Oil | 1 tbsp |
Marinade:
| | |
| --- | --- |
| Soy sauce | 2 tbsp |
| Corn flour | appropriate |
| Pepper | appropriate |
| Rice wine | appropriate |

Methods:
1.Cut the mushroom, cabbage and carrot, and Chinese celery into julienne (thin strips). Julienne the lean meat (cut into thin strips) and marinate.

2. Use SMART COOKER "STEAM" function to heat the oil. First, add in julienne mushroom, follow by julienne carrot and then dried shrimps to the pot fry till medium-well.

3. Add in the marinated julienne lean meat and cook it till medium-well. Then add in the fried shallot and fried garlic stir fry it until all the ingredients are well-mixed.

4. Add in julienne cabbage and julienne chinese celery stir fry them till you can smell the celery aroma. Lastly, pour in the broth and meehoon stir fry till all meehoon coated with all the ingredients evenly then close the lid. Cook for 3 minutes and dish out to serve.

Remark: May open the lid and stir fry it from time to time up to 3 times.