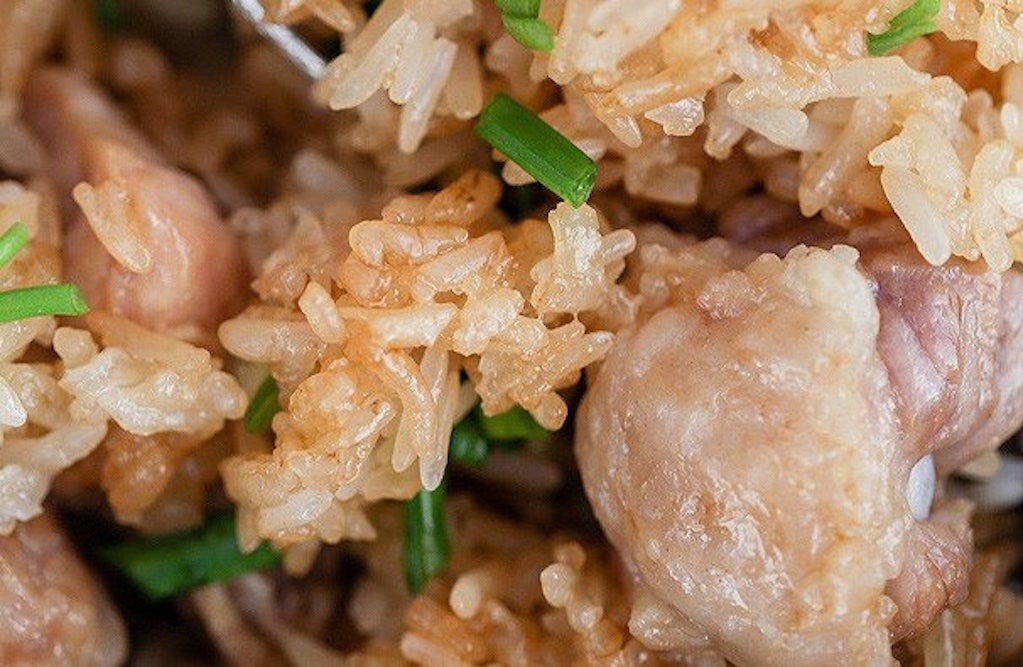 One Pot 2 dishes - Sticky Rice with Spare Ribs and Chicken Soup with Apple and Red Dates
Sticky rice with spare ribs
Ingredients :
| | |
| --- | --- |
| Spare ribs | 300g (cut into 1-1.5 cm size ) |
| Glutinous rice | 250g |
| Dried mushrooms | 3 |
| Minced garlic | 1 tsp |
| Chopped spring onion |  appropriate |

Seasoning:
| | |
| --- | --- |
| Oyster sauce | 2 tbsps |
| Soy sauce | 1 tbsp |
| Rice wine | 1 tbsp |
| Five-spice powder | appropriate |
| Five-spice powder | appropriate |
| salt | 1/4 tsp |
| Sesame oil | 1 tsp |

Chicken Soup with Apple and Red Dates
Ingredients :
| | |
| --- | --- |
| Red apples | 2(Fuji Apple) |
| Red dates | 10 |
| Chicken Thigh |  2 pieces |
| Fungus | 2 |
| Water | 1800ml |

Seasoning


Method: 
1.Rinse the glutinous rice and let it soak overnight, then drained the water. Soak the dried mushrooms until soft then cut into slices.

2. Clean the spare ribs and drain away the water. Mix it with minced garlic and seasoning and let it marinate for 1 hour. Set aside.

3. Add the spare ribs (method 1) and sliced mushrooms into the glutinous rice and mix well, place it on the steamer rack(lined with aluminum foil).

4. Wash and remove the seed from the dates, soak the dried fungus until soft. Clean the chicken and apples. Cut the apples into small cube and set aside.

5. Put in (method 4) ingredients, pour in 1800ml water into the SMART COOKER. Put on the steamer rack , then put in (method 3)glutinous rice and ribs.

6. Cover the lid and press the SOUP function and adjust cooking time to 2:30hrs and press start to cook.

7. When it is ready, take out the glutinous and spare ribs; put on some spring onions and serve.

8. Take out the steamer racks and add some salt to the soup just before serving.