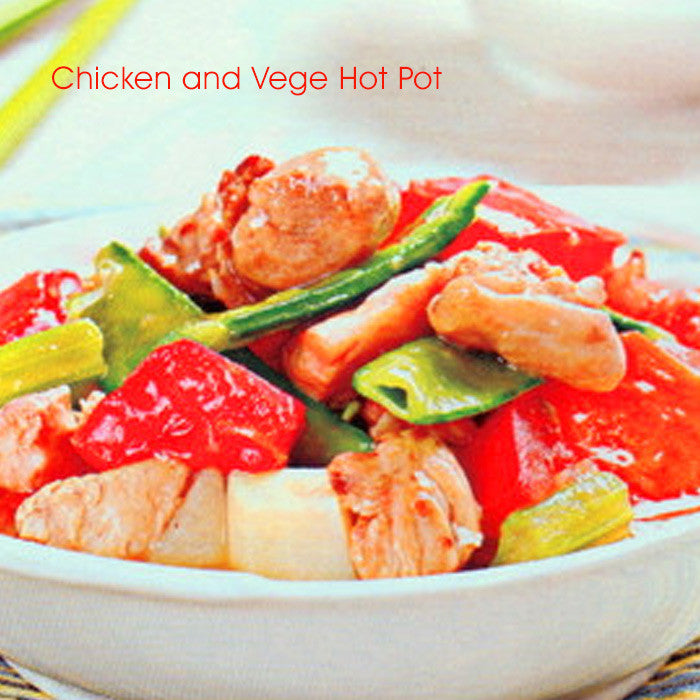 Chicken and Vege Hot Pot
Ingredients:
| | | |
| --- | --- | --- |
| A |  Chicken drumsticks | 1 kg |
| | Oil | 2 tbsp |
| | Chopped garlic | 1 tbsp |
| | Chopped onion | 1 |
| | Celery (sectioned) | 2 stalks |
| | Carrots (sectioned) | 2 |
| | Dried mushroom (soaked/sliced) | 3 |
| | Potatoes (cut into chunks) | 3 |
| | Tomatoes (cut into chunks) | 2 |
| | Diced tomato | 1 can |
| | Water/chicken stock | 200 ml |
| | Mixed herbs | 2 tbsp |
| | | |
| B | Chopped parsley/coriander | 2 tbsp |
| | Corn kernels | 1 cup |
| | Frozen green beans (thawed) | 1 cup |
| | Salt | 1 tsp |
| | Pepper | Dash of |
Method:
1. Heat oil in pressure cooker and sauté the garlic for 10 seconds. Add in drumstick and all ingredients A, stir fry to mix well.
2. Lock the lid in place, over high heat bring to high pressure, adjust heat to low (maintain the pressure) and cook for 6 minutes, remove from heat, let the pressure valve drop automatically.
3. Remove the lid, stir in parsley, corn kernels, green beans, salt and pepper, cook again over medium heat for 2 minutes serve hot.