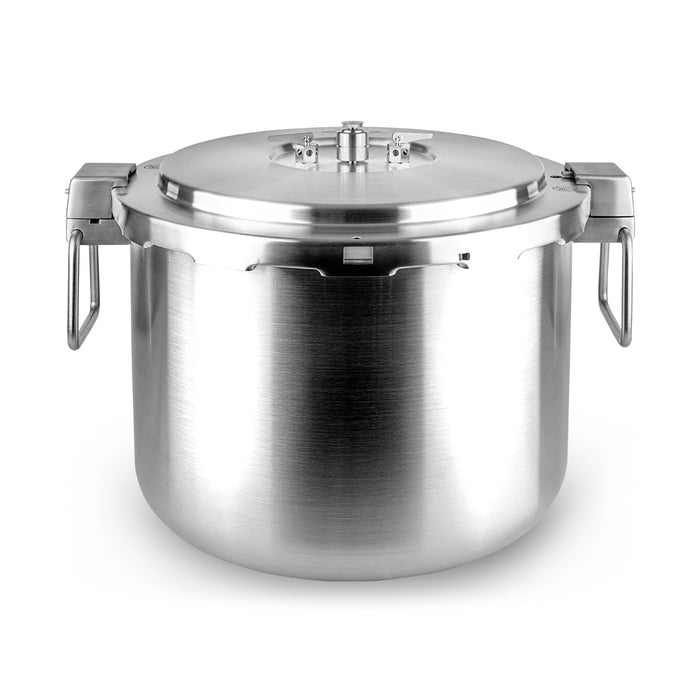 Buffalo Commercial Series Pressure Cooker and Canner 35L
Enjoy Buffalo's biggest Commercial Pressure Cooker (35L).
Top safety certificates: SG Mark in Japan, CNS in Europe, exceeds highest safety standards. 
Pressure valve indicator to lock the cover once pressure exceeds 0.04 kg. The cover will not open when there is pressure inside.
Manual pressure release valve to release pressure immediately after cooking or anytime you wish.
Two-level safety valve that releases pressure when:
it is over 1.2 kg, and;
again when 2 kg is exceeded.

World's first adjustable balancing valve to let you control the pressure at three levels:
1kg / 15psi,
0.75kg / 10psi and;
0.5kg / 7psi.
Perfect for pressure canners.

Optional pressure gauge. $100 to purchase.
400 mm wide and 288 mm high - enough for:
38 half pint jars and;
24 full pint jars.

Thick stainless steel - the whole pot is made of 304 stainless steel, including the handles and lid.
Made in Taiwan with 60 years of experience in the industry.
Life time warranty (body), one year warranty (parts)
Buffalo Pressure Cooker has an excellent safety record with a zero-accident record over the past 50 years. It is also the only multi-layered stainless steel pressure cooker on the market.
The multi-layered stainless steel, Buffalo Clad, provides unbreakable structure and the greatest level of safety with high and even heat conductivity.
The commercial series is available in 16L, 21L, 30L and 35L, the last of which is the largest stainless steel pressure cooker in the world.
Do you want to stew bone soup or beef but are worried about the expensive gas bills and the time it takes? Then give the Buffalo quick pot a try! Recognized and certified for its safe and effective design, this pressure cooker provides phenomenally fast heat transfer and is simple and convenient to use. You can enjoy all the health, time saving, and cost effective benefits of pressurized cooking with our wonderful Buffalo Quick Pots. High quality construction combined with comprehensive after sales service make sure there will be no issues on parts warranty.

SAFETY FEATURES

How the pressure cooker can save your cost?
Since pressure cooker cooks up to 3 to 4 times much faster, relatively it consumes less time and energy. It can reduce your cost significantly over time.

Is it safe to use Buffalo Pressure Cooker?
Yes. Buffalo Pressure Cooker consist of safety features that always safe through out cooking process. Buffalo Pressure Cooker also manage to obtain ISO 9001: 2000 and Safety Goods (SG) Certificate from Japan.
How to use a Buffalo Pressure Cooker?
Please click here for instruction.
All Buffalo commercial pressure cookers share the same operation pressure as below. More details please refer to the image section on the left.
Specifications
Cooking surface: gas, electric, ceramic (for commercial use)
295mm Height x 400mm Diameter
Country of origin: Taiwan
Operating Pressure
Indicator - 0.04kgf/cm²
Balancing Valve - 0.9±0.1kgf/cm²
Safety Valve - 1.5±0.3kgf/cm²
3rd Safety Valve - 2.0±0.2kgf/cm²
Extra Safety Valve - 2.0±0.3kgf/cm²
Pressure Resistance - ≥3.0kgf/cm²
Save
Save