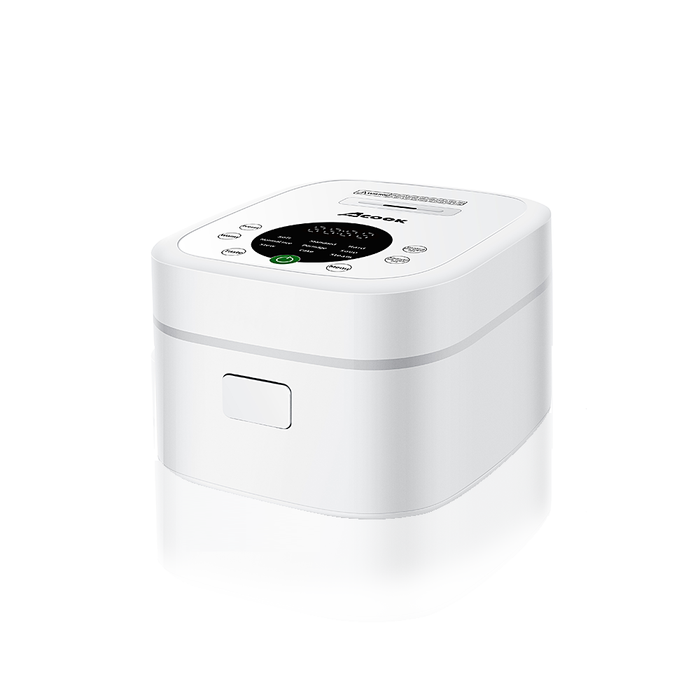 ACook BOILSTEAM Stainless Steel Rice Cooker (6 cups)
The Acook is not a Buffalo brand rice cooker. It is recommended by Buffalo. Steam boil rice cookers are convenient and easy to use.

The magic lies within its BOILSTEAM Technology that boils then steams the rice.

This 2-step combination process produces even fluffier, chewier, and tastier.

This technology also retains most nutritional value.
With an inclusive Food Grade 304 stainless steel steamer basket, save time and effort by steaming dishes while cooking rice in the inner pot simultaneously.
Alternatively, you can steam rice while boiling soup at the same time with this 2-in-1 cooking method. Its multifunctional feature comes in handy with 9 smart cooking programs including a preset function that allows you to completely customise your mealtimes.
With a simple push of these buttons, the ACook Rice Cooker simplifies the complicated cooking process by saving you time, convenience, and offering the best possible solution in leading a healthier and balanced lifestyle. 
Main Features
Boilsteam Technology
The ACook Rice Cooker utilizes a two-step BOILSTEAM Technology process that maximizes the flavor and texture of rice.  During the first phase, the cooker boils the rice and steam are generated during the second phase, which completes the cooking process. This 2-in1 cooking process combines boiling and steaming into one that results in even tastier, fluffier, and nutritionally dense bowls of rice.
304 Stainless Steel 
Both the inner pot and steamer basket are made from Food Grade 304 Stainless Steel for: 
Enhanced Durability

: The 304 Stainless Steel is known for its long-lasting capabilities as it will not chip, bend, or warp under any circumstances. 
Naturally Non-Stick

 

with no chemical coatings
Highly Scratch Resistant

: Its solid construction results in a highly scratch resistant surface that is resistant to harsh and abrasive scratches from metal utensils. 
Retains the Taste & Nutritional Value of Food

: With Food Grade 304 Stainless Steel, it will not have any kind of impact on the flavour, texture, and nutritional value of your food. As the inner pot and steamer basket is free from chemical coatings, you can rest assured of any chemical reactions that will make your food taste metallic. 
Easy Cleaning & Maintenance

: With its smooth, non-porous, and hard surface cleaning is made easier. These stainless steel components are also dishwasher friendly. 
Non-toxic and Non-corrosive
9 Smart Cooking Functions with a Preset Function 
BOILSTEAM Rice Function

: Use this function for fluffy rice for 35-48 minutes, depending on the amount of rice, water, and 'TASTE' function (adjusts the texture of rice). This function can also be used to cook rice and porridge simultaneously!

Advanced BOILSTEAM Rice Function

: Select this function for the ultimate rice experience in taste, texture, and consistency. This function differs from the Boilsteam function as rice is soaked and boiled for a slightly longer duration of time. Similarly, this function also supports cooking rice and porridge at the same time. For a more personalised touch, the 'TASTE' function allows you to adjust the rice texture and duration of cooking time.

Normal Rice Function
Porridge Function
Soup Function
Stew Function
Cake Function
Steam Function
24-Hour Preset Function
Other Features

Smart Touch Screen
Anti-overflow Steam Valve
Stainless Steel Inner Lid
Dishwasher safe inner pot and steamer basket
| | |
| --- | --- |
| Model | ARC03A |
| Product Dimensions | D W H: 276  x 240  x 205 mm |
| Capacity | 3L |
| Voltage | 220 – 240 V |
| Power | 500W |
| Frequency | 50HZ / 60HZ |
| Colour | White |
| Stainless Steel Inner Pot Dimensions | 205  x 115 mm |
| Stainless Steel Steamer Basket Dimensions | 196  x 75 mm |
| Water cup capacity | 160ml |
| Total Weight | 4 kg |
| Country of Origin | China |
Warranty
ACook BOILSTEAM Stainless Steel Rice Cooker comes with a 12-month warranty covered by Buffalo Cookware Australia.
*The volume of a standard rice cup is 160ml. Please refer to this link for more information about cooking rice in a stainless steel rice cooker.