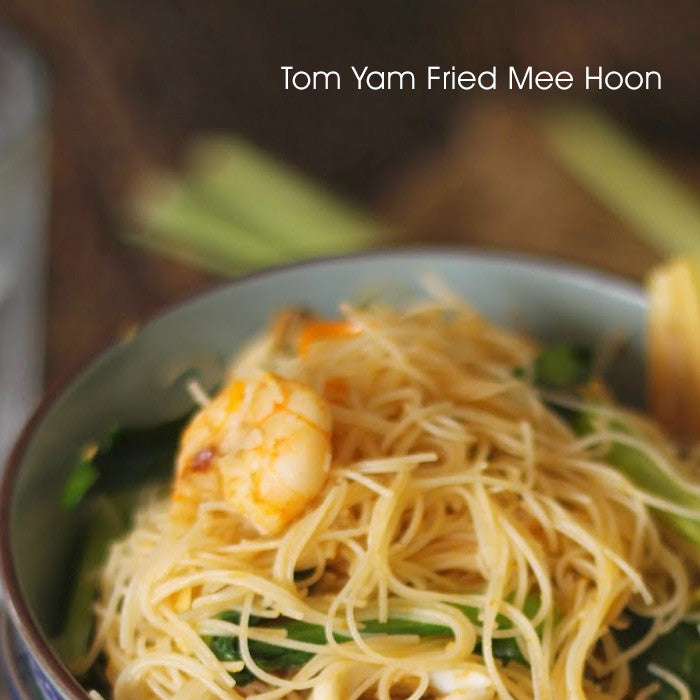 Tom Yam Fried Mee Hoon
Ingredients :
| | |
| --- | --- |
| A | |
| Mee Hoon | 1 packet |
| Oil | 3 tbsp |
| B | |
| Eggs | 3 |
| Shrimp | 100 g |
| Fish cake (sliced) | 1 pc |
| Onion (sliced) | 1⁄2 |
| Cabbage (sliced) | 1⁄4   |
| Spring onion (sectioned) | 2 stalks |
| Carrot (julienne cut) | 50 g |
| Water | 350 ml |
| Tom Yam paste |  2 tbsp |
| Fish sauce |  1 tbsp  |
Method:
1. Soak the mee hoon in water until soft. Drain and set aside.
2. Fry the egg with a bit of oil and slice the egg. Set aside.
3. Fry the shrimp and fish cake slices till cook. Set aside.
4. Heat up the 40 cm Function Series Wok with 3 tbsp of oil at 220 °C for 1 minute till heated oil pattern appears. Sauté the onion slices and Tom Yam paste till fragrant. Pour in the water and let it boil.
5. Add in the mee hoon, cover with lid with steam vent opened for 3 minutes.
6. Add in shrimp, fish cake, cabbage, carrot and spring onion. Cook and stir well.
7. Add in fish sauce to season. Dish up and sprinkle the egg slices on top and ready to serve.